– In English below-

¡CONOZCA EL PAÍS!
Belize se encuentra en el norte de Centroamérica, frente al Mar Caribe, y limita al norte con México y al oeste y al sur con Guatemala.
El idioma oficial es el inglés.
La temporada seca es de marzo a mayo, y todos los demás meses son "temporada verde".
La moneda local es el dólar de Belize. El tipo de cambio de EE.UU. es de 1US$ a 2BZ$.
La electricidad en Belize es de 110 voltios / 60 ciclos y está disponible en todo el país.
El agua del grifo se trata y es segura para beber en las ciudades, pueblos y aldeas principales. El agua embotellada purificada está disponible en las tiendas locales.
Independiente de Gran Bretaña desde 1981, Belize tiene un gobierno parlamentario elegido democráticamente y es miembro de la Commonwealth británica.
Los menores de 18 años deben tener la documentación adecuada, incluido un pasaporte válido y una carta de consentimiento de los padres.
Las mascotas deben tener un certificado veterinario emitido por un veterinario registrado del país de origen y un permiso de importación de la Autoridad de Sanidad Agrícola de Belize.
Todas las tarjetas de crédito internacionales son ampliamente aceptadas en Belize. Los establecimientos pequeños pueden requerir solo efectivo.
CÓMO MOVERSE:
POR AIRE:
Las aerolíneas comerciales aterrizan en el Aeropuerto Internacional Philip Goldson (PGIA o BZE) en Lady Ville, Belize, a unos dieciséis kilómetros al noroeste de la ciudad de Belize.
Es posible viajar a las principales ciudades y a los Cayos con vuelos diarios en aerolíneas nacionales.
POR TIERRA:
Viajar por tierra alrededor de Belize es fácil. El autobús es la forma más económica y hay servicio de rutas a todos los distritos. Los coches de alquiler están disponibles en el PGIA, en la ciudad de Belize y en las principales ciudades. Todas las carreteras principales de Belize están pavimentadas. La mayoría de las aldeas tienen caminos de tierra nivelados. Belize tiene leyes de tránsito internacionales estándar y se conduce por el lado derecho de la carretera.
POR MAR:
Los puertos marítimos se encuentran en San Pedro -Cayo Ambergris-, en Ciudad de Belize -Distrito de Belize-, en Big Creek -Distrito Stan Creek- y en Punta Gorda -Distrito Toledo-. La Aduana e Inmigración están presente en estos puertos.
El transporte local en taxi acuático tanto hacia (y en el medio) Caye Caulker como San Pedro se proporciona a diario.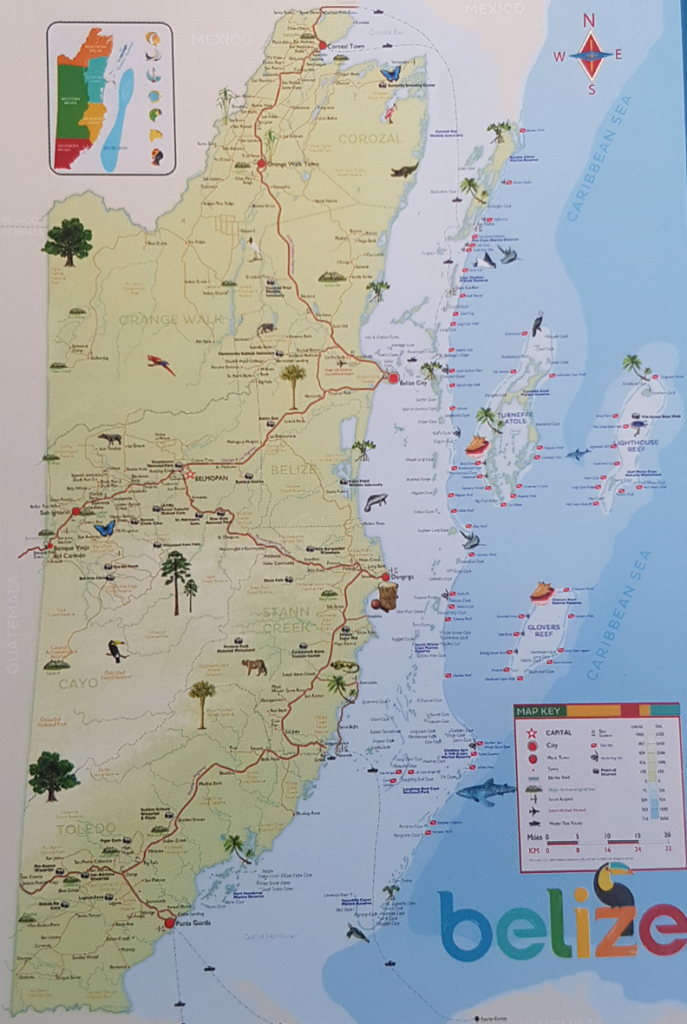 BELIZE
GET TO KNOW THE COUNTRY!
Belize is located in Northern Central America facing the Caribbean Sea and bounded by Mexico to the north and Guatemala to the west and south.
English is the official language, and is spoken through Belize.
Dry Season is from March to May, and all other months are "green season".
Te local currency is the Belize Dollar. The U.S. exchange rate is a steady US$1 to BZD$2.
Electricity in Belize is 110 volts/60 cycles and is available throughout the country. Tap water is treated and safe to drink in cities, towns and major villages. Purified bottled water is readily available in local stores.

Independent from Britain since 1981, Belize has a democratically elected parliamentary government, and is a member of the British Commonwealth.

Children under the age of 18 must have proper documentation, including a valid passport and a letter of parental consent.

Pets must have a veterinary certificate issued by a registered veterinarian from the country of origin, and an import permit from the Belize Agricultural Health Authority.

All international credit cards are widely accepted throughout Belize. Small establishments may require cash only.
GETTING AROUND:
BY AIR:
Commercial airlines land at the Philip Goldson International Airport (PGIA or BZE) in Lady ville, Belize, about ten miles northwest of Belize City.
Traveling to all major towns and the cayes is possible with daily flights on domestic airlines.
BY LAND:
Traveling by land around Belize is easy. The bus is the most affordable way, and there are routes serving all districts. Rental cars are available at the PGIA, Belize City, and in major towns. All of Belize's major highways are paved. Most villages have graded dirt roads. Belize has standard international traffic laws, and driving is on the right side of the road.
BY SEA:
Seaports are locate in San Pedro, Ambergris Caye, Belize City, Big Creek, Stan Creek District and in Punta Gorda, Toledo District. Customs and Immigration are present at these ports.
Local water taxi transport to (and in between) both Caye Caulker and San Pedro is provided daily.